Bee Heart Pendant by Carter Gore
The ancient Druids saw the bee as a symbol of the sun, celebration and of community. It was the community part that got us most. Being proudly based in the North of England, the Manchester bombing hit us hard. But the sense of community, of the bee as the emblem of love and support for those lost that day, inspired this piece and its meaning. May it forever represent togetherness, support and love.
___
In the making:
Our pendants are made right here in Britain, drawn by hand and cut with a big old laser. They're made of solid 925 Sterling Silver, finished and polished by hand. Comes on a 18″ ball chain.
__
Technical Stuff:
Silver pendant (medium): £65.00
22.5mm x 1mm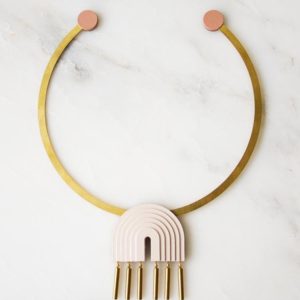 Quickview
NECKLACES
Statement collar necklace made with hand painted wood and brass with solid brass tassels. From Wolf and Moon's No. 7 range of jewellery. Inspired by architecture and interior design. Bold colourful geometric pieces use simple forms, stacked shapes and arches in hand painted wood and warm brass. Feminine and contemporary design for the modern woman. Jewellery handmade in the United Kingdom.
£

68.00