My Doris Bubble Enamel Bangle – Green & Mint
Stunning Bubble bangles with a stunning band of bold colour.
Available in Pink & Black, Red & Pink, Green & Mint and Cobalt & Sky.
High quality brass base with handcrafted enamel
Made in India.
Out of stock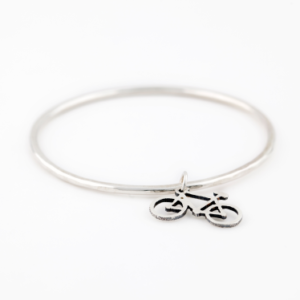 Quickview
BANGLES & CUFFS
Stunning bike jewellery made by Castle Collection. The bangle has a beautiful charm which runs freely around the bangle. Both the bangle and charm are made from sterling silver and hammered to texture. A perfect gift idea for cyclists. We also have a beautiful pair of earrings to compliment this bangle. To see more please visit our 'bike' collection. Handmade jewellery UK.
£

65.00