Scream Pretty Celestial Set of 3 Silver Studs
Wear these celestial symbol earrings in one ear for impact or mismatch in both ears, the options are endless.
Having a set of 3 mismatched earrings gives you endless options, if you have three or more piercings you can use the moon, star and lightening in one ear as shown, or mix and match according to your mood.
The current trend for wearing mismatched earrings makes accessorising fun.
Would make a beautiful gift!
made from:
Sterling Silver with Rhodium Plated Sterling Silver.
dimensions:
Earrings are 0.7cm Crescent Moon 0.5cm star and 0.6cm Lightening.
Out of stock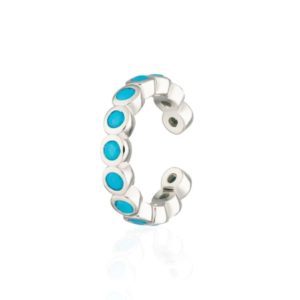 Quickview
EARRINGS
Metal: Recycled 925 Sterling Silver
Plating: Silver Rhodium
Stone Colour: Imitation Turquoise
Dimensions: Internal diameter 11mm, External diameter 15mm, Width 3mm, Opening: 3mm.
Earring Type: Standard Ear Cuff - no piercing required
This elegant ear cuff with 13 bezel set turquoise coloured stones offers a stylish eastern feel with a pop of vibrant colour. Crafted from sterling silver and plated in rhodium, the bezel setting adds sleek modern curves to a classic ear cuff design and elevates the gorgeous sea blue hues. A must-have for your curated ear! No piercing no problem! Each cuff has a small opening that makes it easy to slide on and wrap around the middle part of the ear. Stack, mismatch or wear alone.
Fitting Your Ear Cuff
Find the narrowest part of your ear. In most people this is the curled over part of the ear where upper cartilage piercings are - or just above the lobe. Without flexing or trying to widen, slide the ear cuff into position - rotating the ear cuff slightly as you do this can help. NB. Be especially careful not to try and widen the opening of cuffs with inset stones, as this can damage your jewellery. As with all jewellery we recommend removing for bathing and sleeping. All Scream Pretty pieces will be beautifully presented in our signature branded packaging.
£

30.00