SCREAM PRETTY TURQUOISE HEART NECKLACE WITH SLIDER CLASP
Finishes: Rhodium Plated (Silver)
Dimensions: Heart Charm: 19x17x2mm
Chain: Adjustable with Slider Clasp, Maximum chain length is 63cm
Heart Centre: Imitation Turquoise
Metal: Brass
Add gorgeous sea blue hues to your outfit with this elegant turquoise heart necklace. Offering a summery vibe to a classic design, you can wear this heart-shaped necklace short or long with the adjustable slider clasp chain. The heart shaped charm features a smooth polished imitation turquoise centre that draws you in with its marbled blue tones and defines the heart shaped centre even more!
Our slider clasps have been especially imported from Italy, and consists of a small bead lined with silicon that is attached a lobster clasp, the silica grips the chain and stays in place once the chain is adjusted to length. You can choose to wear this necklace long, mid-length or short like a choker, with our slider clasp chains it means you can change the length to suit your style – offering maximum versatility.
All Scream Pretty pieces will be beautifully presented in our signature branded packaging.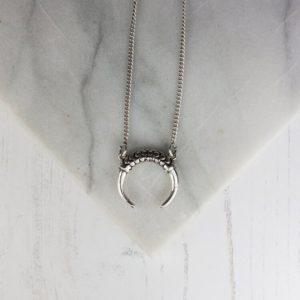 Quickview
NECKLACES
This stunning crescent moon necklace, is a the perfect necklace to layer up, or wear on its own. Made from nickel free brass. Made in India.
£

14.00