STARBURST NECKLACE WITH SLIDER CLASP SILVER
Finishes: Rhodium Plated (Silver)
Dimensions: Large Star, 27x24x3mm with jump ring attachment
Chain: Adjustable with Slider Clasp, Maximum chain length is 63cm
Metal: Brass
Add celestial styling to your outfit with this stunning large faceted starburst. A substantial pendant that adds impact to any outfit this star necklace can be worn long or short with the adjustable slider clasp and works well when layered with additional chains. The large star charm, catches the light with its smooth facets for a brilliant north star shine and offers an eye-catching star accessory that makes for an easy win on the style front.
Our slider clasps have been especially imported from Italy, and consists of a small bead lined with silicon that is attached a lobster clasp, the silica grips the chain and stays in place once the chain is adjusted to length. You can choose to wear this necklace long, mid-length or short like a choker, with our slider clasp chains it means you can change the length to suit your style – offering maximum versatility.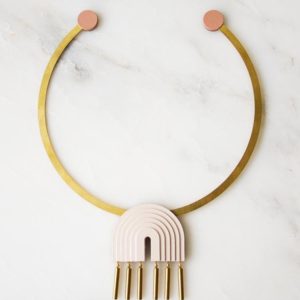 Quickview
NECKLACES
Statement collar necklace made with hand painted wood and brass with solid brass tassels. From Wolf and Moon's No. 7 range of jewellery. Inspired by architecture and interior design. Bold colourful geometric pieces use simple forms, stacked shapes and arches in hand painted wood and warm brass. Feminine and contemporary design for the modern woman. Jewellery handmade in the United Kingdom.
£

68.00