Sitting Buddha Pendant by Carter Gore
We were inspired by adventures through Thailand for this design, where we saw so many Buddha alters. This one we came across most often, and it brought the most peace. A sitting Buddha can symbolise many things, depending on his posture. Our design is the 'calling the earth to witness' Buddha, and represents the Buddha's moment of enlightenment. He sits on a Lotus Flower, symbolising someone who overcame pain in this world and was reborn – just like a lotus grows roots in dirty water to rise and produce a perfect flower.
Silver pendant (large): £110.00
32.5mm x 1mm
On a 30″ diamond cut ball chain
Out of stock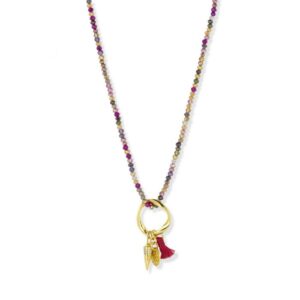 Quickview
NECKLACES
The Spark Long Necklace is adourned with crystal beads and adds a subtle hint of texture, perfect for layering with our gold necklaces. We love it double wrapped, and you can also slide the charms off is you want to wear the crystals on their own. Complemented by a gold ring and tassel it can also be worn as a long pendant style.
THE FINER DETAILS
18 carat gold plated on brass
Delicately handmade by artisan jewellery makers
Cubic Zirconia charms
Dark pink mixed crystal beads
SIZE, FIT AND CARE
95cm length
Can be worn doubled
To keep your jewellery in the best condition, we advise you to avoid contact with water, chlorine, soaps and alcohol – and to take care when wearing and/or removing them
£

36.00