Sitting Buddha Pendant by Carter Gore
We were inspired by adventures through Thailand for this design, where we saw so many Buddha alters. This one we came across most often, and it brought the most peace. A sitting Buddha can symbolise many things, depending on his posture. Our design is the 'calling the earth to witness' Buddha, and represents the Buddha's moment of enlightenment. He sits on a Lotus Flower, symbolising someone who overcame pain in this world and was reborn – just like a lotus grows roots in dirty water to rise and produce a perfect flower.
Silver pendant (large): £110.00
32.5mm x 1mm
On a 30″ diamond cut ball chain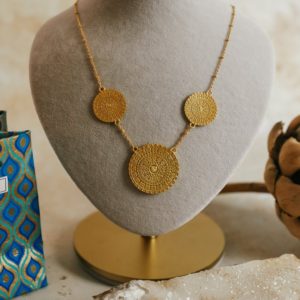 Quickview
NECKLACES
This stunning triple aztec coin necklace is great for layering up. With beautiful embossed tribal detail. A modern and fresh design beautifully finished in a workshop in Jaipur. Dimensions Large coin 3cm aproximately Small coins 2cm aproximately Chain length 45cm.
Made from nickel free brass with a 24ct gold plate and finished with a special eco-coat to preserve the beautiful look of the piece.
£

48.00