Gold Square Edge Bangle by Tilly Sveaas
We can't get enough of bangles at the moment. All shapes and sizes, the bigger the jingle jangle, the better!
This slightly flattened version of the traditional gold bangle results in an incredibly satisfying and tactile addition to any wrist stack.
The bracelet has been hand carved out of bronze and plated in 2 microns of certified and ethically sourced 18kt gold. It comes in 2 sizes S or M measuring 6cm or 6.2cm in diameter and weighing around 30.5g.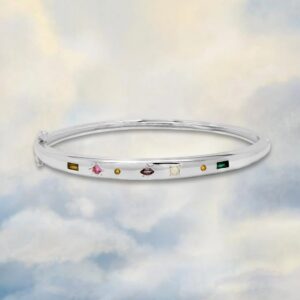 Quickview
BANGLES & CUFFS
Decorated with Opal, Amethyst, Emerald, Peridot and Pink Sapphire this whimsical bracelet is just like a rainbow - rare and beautiful. Each stone holds meaning and collectively these jewels create a dazzling talisman designed to bring the wearer joy and positivity.
Cubic Zirconia gemstones
Hinged bangle with clasp detail
Presented in our signature gift box
Silver plated brass
Dimensions
Bangle measures 6.8 cm x 5.5 cm
£

26.00