Gold Square Edge Bangle by Tilly Sveaas
We can't get enough of bangles at the moment. All shapes and sizes, the bigger the jingle jangle, the better!
This slightly flattened version of the traditional gold bangle results in an incredibly satisfying and tactile addition to any wrist stack.
The bracelet has been hand carved out of bronze and plated in 2 microns of certified and ethically sourced 18kt gold. It comes in 2 sizes S or M measuring 6cm or 6.2cm in diameter and weighing around 30.5g.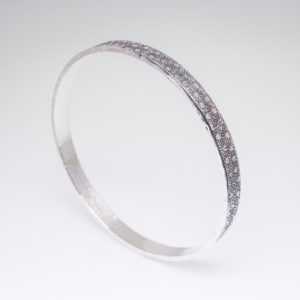 Quickview
BANGLES & CUFFS
Personalised jewellery by Castle Collection. A beautifully handmade sterling silver message bracelet. Personalise bracelet with hand stamped words of your choice IE dates, names, quotes or messages. Words can be stamped on the front or back of cuff. 6 x 2mm rectangle wire bangle which has been hammered to texture.
£

100.00