Sarah Drew Large Silver Pebble Ring
Lovely large silver pebble-shaped ring with a definite 50s feel. It's made from textured, scratched eco-silver, designed to look old and treasured. A real statement piece, it measures 2cm wide by 3cm long and sits at an angle on your finger.
Satin finished and hallmarked.
Size N
What is ecosilver?
Eco-silver is a green alternative to sterling silver. It is a little bit more expensive but has the same silver content as sterling, it's just made of 100% recycled and scrap silver products. Eco Silver can be both treated and worked with in the same way as silver, for the same quality results but more environmentally friendly. Produced from scrap jewellery, medical equipment, electronics and giftware, all the eco silver I use comes with a certificate of authenticity and is hallmarked if it is the required weight.
Out of stock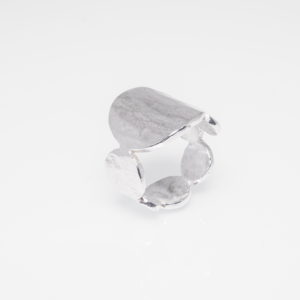 Quickview
RINGS
Unique solid sterling silver ring hammered to texture. This bespoke piece of jewellery was beautifully made in the United Kingdom by Lisa Castle. This is an addition to the Air-O range of jewellery.
£

50.00