SCREAM PRETTY GOLD FATIMA STUD EARRINGS WITH TURQUOISE
Metal: Recycled 925 Sterling Silver
Plating : 18 Carat Gold
Stone Colour : Clear Cubic Zirconia and Turquoise
Dimensions: 1cm at widest points.
Earring Type: Stud with butterfly clasp
An easy win on the style front – these Gold Fatima hand stud earrings are stylish design with added sparkle, perfect for the summer festival  season, or for those that love peace and tranquility!
The Fatima hand or Hamsa Hand is an ancient Middle Eastern amulet symbolizing the Hand of God. In all faiths it is a protective sign. It brings its owner happiness, luck, health, and good fortune.
Scream Pretty use only high quality sterling silver, 18 carat gold and nano crystals in our designs. These fatima hand studs would be a great gift for a girlfriend, or gift yourself because you deserve it!
All Scream Pretty pieces will be beautifully presented in our signature branded packaging.
Out of stock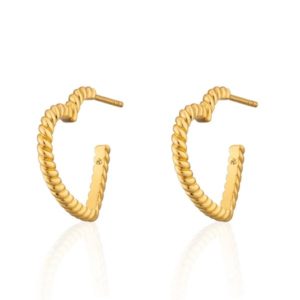 Quickview
EARRINGS
Metal: Recycled 925 Sterling Silver
Plating: 18 Carat Gold
Dimensions: 19x19x2mm
Earring Type: Hoop Stud with Post and Butterfly Clasp
Add a stylish twist to your ears with these twisted heart hoop earrings! A stunning twisted hoop design shaped like a heart! We like to style theses with the heart earrings on the lobe, and stacked up with a mix of huggies and stud earrings to add a drama. All Scream Pretty pieces will be beautifully presented in our signature branded packaging
£

50.00