SCREAM PRETTY SILVER STARBURST HOOP EARRINGS
Recycled 925 Sterling Silver
Plating : Silver Rhodium
Stone Colour : Clear Cubic Zirconia
Dimensions: Hoop: 13mm external hoop diameter, 9mm internal hoop diameter, 2mm depth. Star drop 12mm at widest points.
Earring Type: Charm Hoop with hinged click clasp
These star earrings will add a touch of glamour and sparkle to any outfit. Starburst hoop earrings are perfect party wear and you can choose from silver or gold.
An easy win on the style front – these star earrings are an instant modern classic. Stylish design with added sparkle, a contemporary jewellery classic – huggie hoop earrings are a wonderful way to add movement to an up-do for evening, or a fresh finish to a daytime look.
Comfortable and easy to wear, open the hoop and slide down from the narrow part of the ear to the fleshier lobe, slip through the piercing and click closed. Scream Pretty use only exceptionally high quality sterling silver, and nano crystals in our designs. These starburst hoop earrings would be perfect for the party season, a great gift, or a special gift just for you!
All Scream Pretty pieces will be beautifully presented in our signature branded packaging.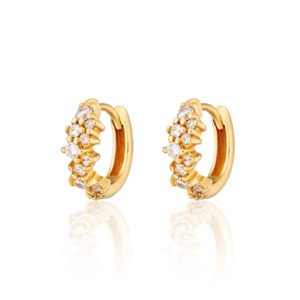 Quickview
EARRINGS
Metal: Recycled 925 Sterling Silver
Plating: 18 Carat Gold
Stone Colour : Clear Cubic Zirconia
Dimensions: External diameter 12mm, Internal diameter 7mm, Depth 2mm
Earring Type: Small Huggie with hinged click clasp
Add a little stardust and shimmer to your ears with our stunning stardust huggie hoop earrings. Inspired by the beauty of the cosmos we have studded each huggie hoop earring with a twinkling display of clear cubic zirconia stones set in an asymmetrical cluster on the front leaving for a smooth polished back. Resembling a constellation of a starry night sky this celestial themed huggie hoop is the perfect way to add sparkle all day. To wear simply open the hinge of the huggie earring, slide down from the upper narrow part of your ear to the fleshy lobe, slip through your piercing and click closed. This earring also works beautifully with upper ear or mid ear piercings. Please be aware these earrings are small and dainty, and close fit to the ear, these earrings may not fit larger lobes, if the piercing is set higher on the lobe. All Scream Pretty pieces will be beautifully presented in our signature branded packaging
£

40.00