Lucy Kemp Sterling Silver Textured Moon Charm Bangle
Handmade sterling silver textured moon charm bangle.
Each sterling silver moon charm measures approximately 13mm, is hand cut and delicately textured and comes with 4 sterling silver rings approximately 6mm.
The sterling silver bangle wire is approximately 2mm thick.
All of our sterling silver bangles come hallmarked.
Textures may vary from the photo attached to this listing.
The size of the bangle is measured on the inside diameter of the bangle and is a size medium – 6.5cm.
To size measure a bangle of your own or scrunch your hand as if putting on a bangle and measure the widest bit of your hand. Remember you want the bangle to go over your hand quite tightly so that it isn't too loose.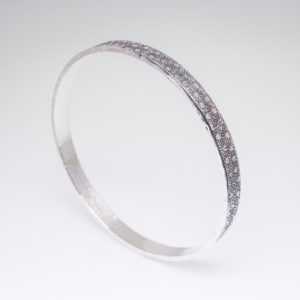 Quickview
BANGLES & CUFFS
Personalised jewellery by Castle Collection. A beautifully handmade sterling silver message bracelet. Personalise bracelet with hand stamped words of your choice IE dates, names, quotes or messages. Words can be stamped on the front or back of cuff. 6 x 2mm rectangle wire bangle which has been hammered to texture.
£

100.00