Sarah Drew Silver Recycled Bottle Bead Bangle – Blue
A gorgeous textured recycled bottle glass bead (around 10mm diamater) bought Fair-trade from Oklah Tetteh in Ghana. Threaded onto a sterling eco-silver hammered bangle, made in a pebble shape.
The beads are all handmade so will vary a bit in shape and colour, but that's part of their beauty.
Size medium (fits a hand sized 20.5cm).
What is ecosilver?
Eco-silver is a green alternative to sterling silver. It is a little bit more expensive but has the same silver content as sterling, it's just made of 100% recycled and scrap silver products. Eco Silver can be both treated and worked with in the same way as silver, for the same quality results but more environmentally friendly. Produced from scrap jewellery, medical equipment, electronics and giftware, all the eco silver I use comes with a certificate of authenticity and is hallmarked if it is the required weight.
Out of stock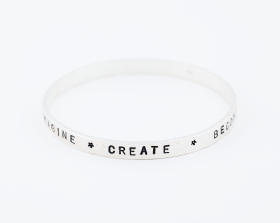 Quickview
BANGLES & CUFFS
Sterling silver personalised jewellery hand stamped with the words of your choice or dates, names, quotes and messages. This beautiful flat fronted bangle has been hammered to texture by Castle Collection. Measuring 6mm wide this personalised bracelet makes the perfect gift for yourself or loved ones.
£

65.00