SNAKE SMALL SINGLE EAR CUFF WITH GREEN EYES
Metal: Recycled 925 Sterling Silver
Plating: 18 Carat Gold
Stone Colour : Green Cubic Zirconia Stones
Dimensions: 12mm external diameter, 9mm internal diameter, 11mm width, 4mm opening
Earring Type: Small Ear Cuff (9mm)
Coiling around your upper ear, this small snake ear cuff features dazzling green eyes that catch the light as you move for a subtle hit of green. Sitting perfectly on the upper ear this serpent ear cuff  gives edge to any look and has been crafted from sterling silver with the option of 18ct gold plated. Ideal for stacking this 9mm ear cuff is smaller in size than our standard 11mm ear cuffs to allow it to sit higher up on the ear – why not layer large with small for the perfect curated ear stack! Slide on the larger standard sized cuffs first, then on the upper ear add this gorgeous snake cuff! Curated Ear – sorted!
The serpent is one of the oldest mythological symbols – symbolising good, evil, wisdom and eternity. Scream Pretty designers were inspired by Cleopatra and her jewellery when designing the Cleopatra Jewellery Collection, and the snake motif is powerful, a symbol of Royalty in ancient Egypt.
Fitting Your Ear Cuff
Find the narrowest part of your ear. In most people this is the curled over part of the ear where upper cartilage piercings are – or just above the lobe. Without flexing or trying to widen, slide the ear cuff into position – rotating the ear cuff slightly as you do this can help. NB. Be especially careful not to try and widen the opening of cuffs with inset stones, as this can damage your jewellery. As with all jewellery we recommend removing for bathing and sleeping.'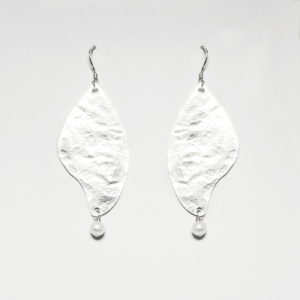 Quickview
EARRINGS
Handmade jewellery by Castle Collection. These drop earrings were beautifully cut from sterling silver with cream fresh water pearls attached to the bottom. Suitable for every occasion. Great as gift ideas or a treat for yourself!
£

48.00