SCREAM PRETTY STAR DOUBLE BAND SMALL SINGLE EAR CUFF – GOLD
Metal: Recycled 925 Sterling Silver
Plating: 18 Carat Gold
Stone Colour: Clear Cubic Zirconia
Dimensions: 12mm external diameter, 9mm internal diameter, 10mm width, 4mm opening
Earring Type: Small Ear Cuff – 9mm
A modern classic, this star double band ear cuff, has one sparkling band, and another plain band finished with a faceted star, set with a single cubic zirconia. This design gives the illusion of the star floating above the ear. This design took several revisions to get the perfect positioning of the star on the ear cuff – and we are thrilled we took the time! This star ear cuff with works perfectly with a celestial themed ear stack – layer up with sparkle, stars and moons to create your perfect curated ear.
The Star ear cuff is smaller in diameter, 9mm, to our usual ear cuffs 11mm – which means its sits higher up on your ear lobe. Each ear wrap has a fixed spherical shape with a small opening that makes it easy to slide on and wrap around the upper part of the ear for a comfortable accessory to wear every day. Use this ear cuff to create the illusion of an orbital piercing and it offers a hassle-free way to add style to non-pierced ears.
Out of stock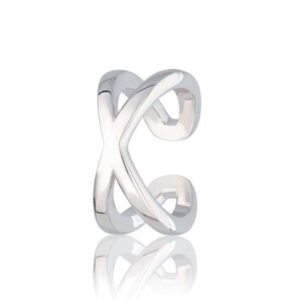 Quickview
EARRINGS
Metal: Recycled 925 Sterling Silver
Plating :  Silver Rhodium
Dimensions: Internal diameter 10.5mm, External diameter 14mm, Width 7mm, Opening 4mm.
Be on trend with our cross over ear cuff design offering a sleek minimalist look that will suit any occasion. This stunning cross-shaped cuff will make a beautiful addition to a curated ear stack and is crafted from 925 sterling silver with the option of 18ct gold plated - the perfect addition to your helix. Create the illusion of a conch style earring it will be the perfect addition to your helix and offers a hassle-free way to add style to non-pierced ears.
Fitting Your Ear Cuff
Find the narrowest part of your ear. In most people this is the curled over part of the ear where upper cartilage piercings are - or just above the lobe. Without flexing or trying to widen, slide the ear cuff into position - rotating the ear cuff slightly as you do this can help. NB. Be especially careful not to try and widen the opening of cuffs with inset stones, as this can damage your jewellery. As with all jewellery we recommend removing for bathing and sleeping. All Scream Pretty pieces will be beautifully presented in our signature branded packaging.
£

30.00